Album of the Week 23-2018: Onmyo-za – Hado Myoo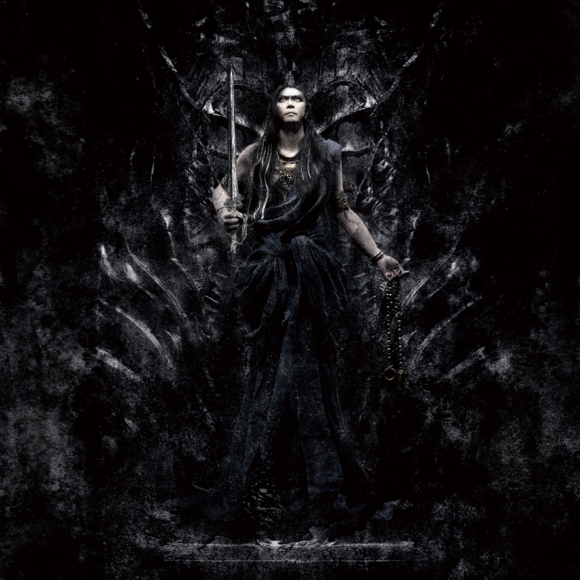 Heavy, dark, but without forsaking their trademark streamlined melodicism. How they do it is a mystery to me, but Onmyo-za manages to upgrade the formula of their already impressive latter day sound on 'Hado Myoo' without the help of a potentially alienating stylistic shift. Despite its fairly heavy use of seven string guitars, its predecessor 'Karyo-Binga' had its lighter moments. 'Hado Myoo' has not, except for maybe the relatively accessible first single 'Oka Ninpocho'. And that is a great thing, as this powerful, relatively riff-driven monster of an album truly confirms Onmyo-za's relevance in the year before its twentieth anniversary.
Being quite a short album by Onmyo-za standards, 'Hado Myoo' wastes no time setting the scene and drags the listener into an unsettling, yokai-infested underworld by means of its massive opening track 'Hao'. The song truly plays to all of the band's strengths, with especially the contrast between the crushing sections sung by bassist and bandleader Matatabi and the more melancholic introspection of the parts lead by his wife Kuroneko being nothing short of genius. 'Hao' is more than a mind-blowing opener though. It is a warning that 'Hado Myoo' is not going to be for the faint of heart and it delivers on that promise.
'Shimobe' follows a similar structure, albeit on a higher tempo, with its fierce riffing unveiling a distinct melodic death metal influence. The 7/8 intro is vicious and it is quite remarkable how many new things happen in the latter three minutes of the song. Easily the heaviest Onmyo-za song in quite some time. But while the aforementioned songs are peaks in intensity, 'Hado Myoo' does not let go until it is over. The songs vary in heaviness – 'Haja no Fuin' brings some of that delicious NWOBHM-inspired twin riffing to the fore, while 'Ippondara' is a grinding midtempo stomper with a cool bass solo – but none of them will be relegated to background music. Fortunately.
Elsewhere, 'Tesso No Aza' teaches many European and American bands a lesson or two on how to do epic heavy metal and 'Oka Ninpocho' and 'Fushoko No O' feature some tasteful Japanese folk elements as part of their arrangements. 'Izuna Otoshi' and 'Itsumade' are the typical melodic heavy metal we have come to expect from Onmyo-za, though the latter does feature some borderline thrash riffs. Even the closing track is very powerful. Onmyo-za usually reserves that spot for lighter, upbeat rock tracks, but while 'Bureiko' does have a more "rocky" feel than the rest of the album, it is still very much rooted in pounding riff work.
As far as my expectations for 'Hado Myoo' went, this was not what I was expecting. Not many metal bands can say that their fourteenth album is one of their heaviest thus far, but Onmyo-za can proudly declare that. It never sounds forced, however. 'Hado Myoo' is clearly the work of a band doing something they feel comfortable doing. It is a sonic triumph as well, with the guitars of Maneki and Karukan having the perfect amount of grit and Matatabi's bass rumbling underneath slightly more prominently than usual. Yours truly for one was stunned and unless you listen to Onmyo-za for their ballads – there aren't any – most of their fans will too.
Recommended tracks: 'Shimobe', 'Hao', 'Haja No Fuin', 'Tesso No Aza'