Album of the Week 32-2019: Sex Machineguns – Barbe-Q★ Michael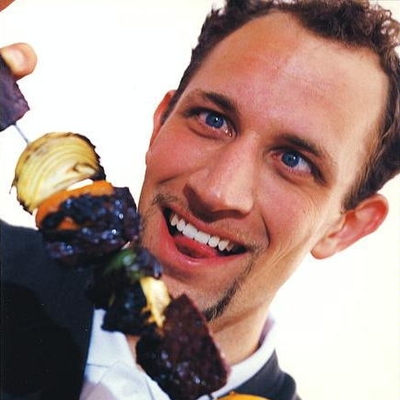 A lot of people, myself included, consider Sex Machineguns' first two albums superior to the rest of their discography. However, I do feel that their excellent third album 'Barbe-Q★ Michael' kind of gets lost in the shuffle because of that. There are plenty of excellent metal tracks to be found on the album and though the material is not quite as catchy as the better tracks on the first two records, the songwriting showcases a little more complexity in the guitar department especially. Despite its flaws, every Sex Machineguns album has a few, it is one of their better albums.
Not unlike 'Made In Japan' before it, 'Barbe-Q★ Michael' is essentially a speed metal album posing as something else. Nothing about the goofy artwork betrays the almost thrashy nature of the record and the first two tracks are kind of misleading, again not unlike 'Progressive Oji-chan' on 'Made in Japan'. Here, we have 'S.H.R. ~Sexy Hero Revolution~', an oddball rocker that may have worked better if it was not opening the album, and 'Midori No Oba-chan', which would have been an amazing melodic hardrocker, had the verses and the main melody not been lifted note for note from Stryper's 'In God We Trust'.
From there, the album only gets better. Sure, there are a bunch of weird tracks like the death metal tribute or parody 'Death' and the inexplicably underproduced closer 'Zenkoku Takai', but at least those have a bunch of cool riffs going for them. On the other hand, the album also produced a number of justified live classics, such as the particularly intense, yet still melodic 'Fire' and the catchy stomper 'Tabetai Nametai Kiken Chithi', which is relatively subdued in tempo, but has a nice rock 'n' roll-ish groove along the heavy riffs and Anchang's high-pitched vocals.
The lesser known material might even be superior. 'Okami To Kirigisu' combines a violent start-stop riff with some thrashy warp-speed gallops and a brooding pre-chorus, while 'To-chan' isn't necessarily anything special, but it is evidence of how good mid-tempo thrash can be if you're not trying too hard. The true unsung gems of 'Barbe-Q★ Michael', however, are 'Aikoso Subete' and 'Pheromone'. The former contains the tightest, most vicious speed metal riffs of the album, a bunch of fantastic guitar solos and a fantastic understanding of how climaxes work, the latter is a relatively intricate thrasher that despite its complexity and moderately fast tempo manages to create an unsettling, almost doomy atmosphere. Both are incredble.
For all the flaws the record has – for some reason, Sex Machineguns' humorous leanings often get in the way of creating a truly 100 percent consistent album – 'Barbe-Q★ Michael' is a superb piece of melodic thrash metal. In fact, the highlights of the album are some of the best thrash and speed metal released early this century. For all the odd moments and songs that just miss the mark, there is at least one incredible track. While 'Barbe-Q★ Michael' is not quite as essential as 'Sex Machinegun' and 'Made In Japan', it is definitely worth hearing if you like Sex Machineguns' style.
Recommended tracks: 'Aikoso Subete', 'Fire', 'Pheromone', 'Okami To Kirigisu'