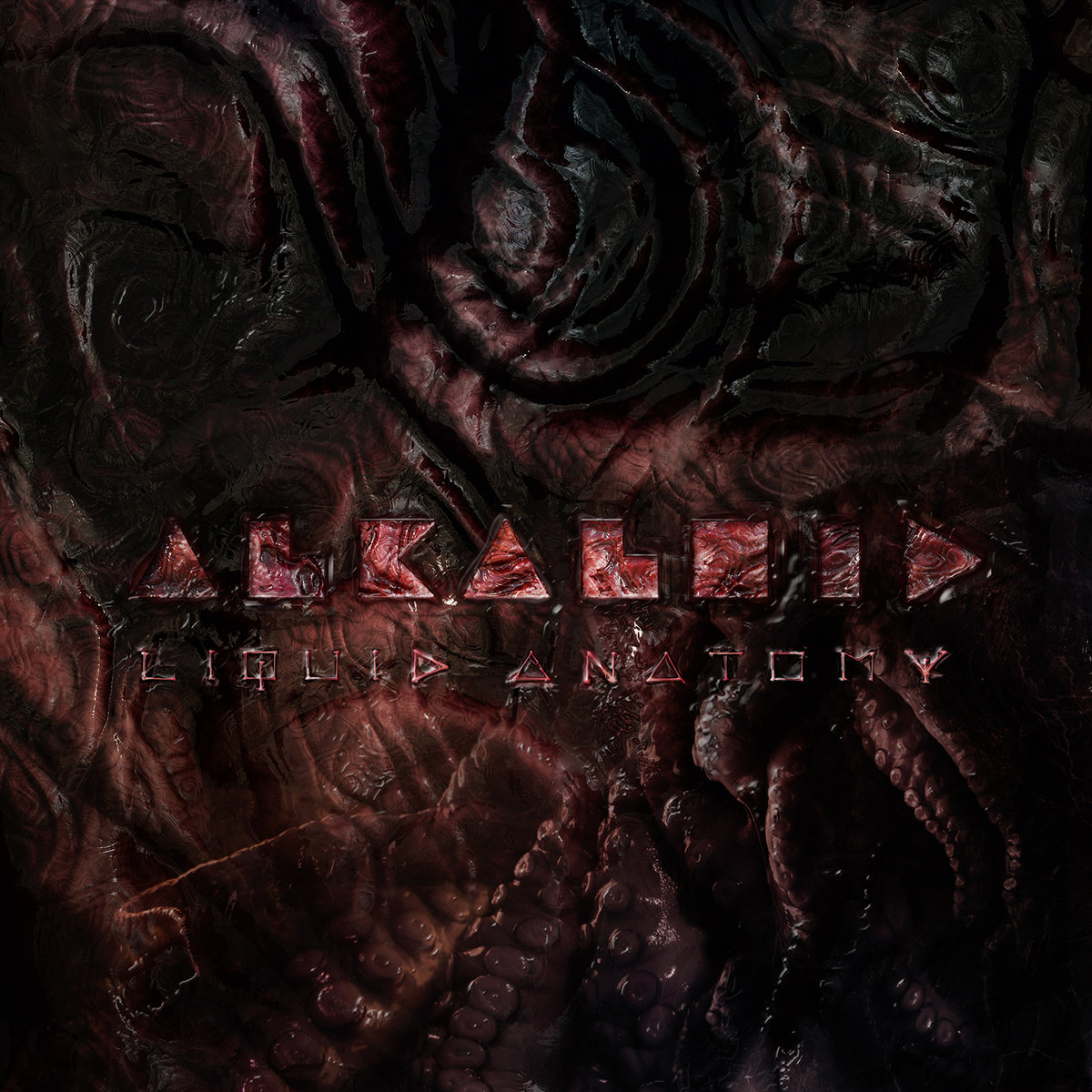 Two years ago, Alkaloid thoroughly impressed me with their highly creative debut album 'The Malkuth Grimoire'. Despite the band members' association with high profile metal bands – Obscura most prominently – it transcended the supergroup burden by coming up with a highly progressive, almost avant-garde extreme metal that forsakes most of the exhausting hyperactivity of most contemporary technical death metal bands and aims for atmosphere and maximum impact instead. Fortunately, Alkaloid found time in its busy schedule to record a second album and it manages to amplify all the best aspects of 'The Malkuth Grimoire' beyond what yours truly had expected at this point.
In a way, 'Liquid Anatomy' is slightly less extreme than 'The Malkuth Grimoire'. There are still plenty of hyperspeed death metal passages to be heard and Florian Magnus Maier still throws his hateful growl around like there's no tomorrow, but the focus seems to have slightly shifted towards the progressive side of the band rather than brutal force. Overall, Maier does more clean vocals here, which really enhances the immersive atmosphere of the material. Pink Floyd and Cynic appear to be the most prominent influences in that matter, but not as spacey as the former and much more organic and effective than the latter.
One would have to look no further than opening track 'Kernel Panic', which appears to mirror the first half of previous opener 'Carbon Phrases' stylistically with its gorgeously layered clean guitar lines and vocal harmonies punctured by blunt moments of aggression. Hannes Grossmann's interestingly timed rhythms and and the guitar solos by both Christian Münzner and Danny Tunker are incredible. Anyone expecting pure death metal may be discouraged by the opener, but it is a brave opener that emphasizes the unique nature of the band. Those desiring a heavier approach will still be satisfied by 'As Decreed By Laws Unwritten' and parts of 'Chaos Theory And Pratice'.
Personally, I strongly prefer the more experimental approach though. 'Azagthoth' profits from somewhat exotic rhythms, crazy lead guitar work and a perfect balance between pounding heaviness and sophisticated subtlety, while the acoustic-based title track is a beautiful extreme progmetal ballad, as unlikely as that sounds. The guitar arrangements of 'In Turmoil's Swirling Reaches' are downright brilliant, but most attention will probably go out to the 20 minute beast that is 'Rise Of The Cephalopods'. It is a highly dynamic track that takes the listener through all the extremes of Alkaloid's sound, from the cleanest, calmest acoustic sections to some of the most thrashing death metal on the record.
My only minor complaint would be the production, which feels a little less dynamic than last time around and really does not benefit the amazing bass playing of Linus Klausenitzer. Sometimes you'd even have trouble hearing him if you pay close attention and that makes the record slightly less immersive sonically than its predecessor. The song material is a definite step up from what was already a high quality debut, however. As such, Alkaloid has not only outdone itself, but also proven that the band is so much more than just a new project with a prominent "ex-Obscura" label. Highly recommended for fans of progressive music of all sorts.
Recommended tracks: 'Kernel Panic', 'Liquid Anatomy', 'Rise Of The Cephalopods'