In terms of music releases, 2018 was one of the strangest years in recent history. Save for a few notable peaks – in June and September most notably – there have not really been extended periods with lots of great releases. In fact, some of the trusted names have released quite disappointing albums. Record companies seem to slowly shift their focus towards reissues and live releases, which is not necessarily a bad thing, but I would have been happy if there was some more previously unheard material that blew me away during the year.
Nevertheless, there were two amazing albums this year that make an equal claim to the number one spot, both of them Japanese. In the end, I literally flipped a coin to decide the order of the first two records. Not unlike other recent years, many of the western artists in the lists are either relatively new bands that took me by considerable surprise or long-running bands that suddenly released a career highlight. That should be enough to still remain hopeful about the future of international heavy metal.
1. Onmyo-za – Hado Myoo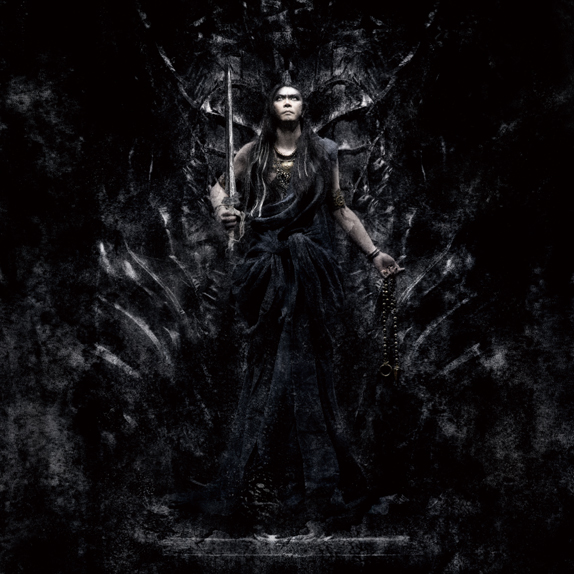 Despite all of Onmyo-za's albums being of excellent quality, nothing could have prepared me for 'Hado Myoo'. The album was darker and heavier than anyone could have expected – especially after the relatively lightweight single 'Oka Ninpocho' – but it still features the trademark melodic elegance that Onmyo-za is known for. During the album's best moments, the contrast between Matatabi's forceful sections and Kuroneko's melancholic introspection really brings out the best of all sides of the band. Onmyo-za is one of the very few contemporary metal bands that scores 10/10 on riffs, melodies, structure, memorability and vocals simultaneously and 'Hado Myoo' is one of the brightest examples of that.
Recommended tracks: 'Shimobe', 'Hao', 'Haja No Fuin'
2. Saber Tiger – Obscure Diversity
Since around 2011, Saber Tiger has truly been on a roll. Their current line-up is probably the strongest they have ever had and their song material is nothing short of excellence, combining the powerful melodies and overall feel of eighties heavy metal with the impressive intricacy of contemporary progressive metal. With these elements, Saber Tiger has crafted a sound that is completely unique and 'Obscure Diversity' expands on that by being more complex and more accessible at the same time. There's a perfect balance between aggression, musical craftsmanship and memorability on the album. While many modern metal albums sound clinical and soulless, Saber Tiger retains the passion that is so important to the genre.
Recommended tracks: 'Distant Signals', 'Beat Of The War Drums', 'The Worst Enemy'
3. Witherfall – A Prelude To Sorrow
Despite being familiar with Jake Dreyer through Iced Earth and White Wizzard, his own band Witherfall really blew me away from out of nowhere. 'A Prelude To Sorrow' was the most pleasant surprise of the year. Dark, but not self-pitying. Complex, but not impenetrable. Melodic, but not powerless. Witherfall does just about everything right here. Joseph Michael's vocal performance is the cherry on the cake. He has the subtle rasp of a young Halford, the drama of Bruce Dickinson and a higher register eerily similar to Crimson Glory's Midnight. There's so much to this album that I can see myself listening to it for many years to come. In a way, Witherfall fills the void left after the definitive end of Nevermore with their expertly composed, dark progressive metal.
Recommended tracks: 'We Are Nothing', 'Moment Of Silence', 'Vintage'
4. The Magpie Salute – High Water I
Although The Black Crowes have always impressed me with their engaging combination of typically American music styles, the country influences got a little too prominent on their last few albums for my taste. Apparently guitarist and main songwriter Rich Robinson also thought so, because while the rootsy sounds are still there on 'High Water I', the debut studio album of his new band The Magpie Salute, the songs are mainly rooted in bluesy hardrock, while the acoustic songs are more folky in nature. Singer John Hogg is a revelation. His passionate voice is what really lifts the album above the level of its already impressive songwriting. The melodies and atmospheres are captivating. At this point, I honestly hope the rise of The Magpie Salute will not be stopped by a Crowes reunion.
Recommended tracks: 'High Water', 'Open Up', 'For The Wind'
5. Warrel Dane – Shadow Work
Sure, Warrel Dane was in my top three favorite metal singers of all time, so it should not be too surprising that 'Shadow Work' is so good. But given the fact that he died during the recordings, it is remarkable how accomplished and well-arranged it sounds. It is essentially an unfinished record, but hardly does it ever sound like one. There's a few moments where Warrel's vocal lines are a little rough around the edges, but they give the album character rather than being distracting. The songs sound really good; they mainly display an even darker take on Nevermore's formula. And one can hear that this has become a true labor of love for Dane's Brazilian backing band. They play their hearts out below what is unfortunately Dane's final farewell. It is a powerful one though!
Recommended tracks: 'Madame Satan', 'Shadow Work', 'Mother Is The Word For God'
6. Voivod – The Wake
For years, the late Denis 'Piggy' D'Amour was deemed irreplacable. Martyr's Daniel 'Chewy' Mongrain proved that nothing is impossible on the fantastic 'Target Earth' (2013) and now, 'The Wake' proves that was not just a fluke. The album steers slightly away from the technical thrash of 'Killing Technology' (1987) and more towards the futuristic, surprisingly relaxed progressive metal of 'Nothingface' (1989). 'The Wake' is an adventurous record that is likely to please any fan of mid-period Voivod, but is not simply copying the formula of those years. The songwriting on the album is simply too inventive and spontaneous for that. Many sections on the album even sound like improvised jams, which is highly unusual for a metal band. Then again, highly unusual is Voivod's bread and butter!
Recommended tracks: 'Always Moving', 'Sonic Mycelium', 'Spherical Perspective'
7. Asagi – Madara
While D is easily one of the better bands in the visual kei scene, I was not too sure if a solo album of their frontman Asagi was what I was waiting for. It turns out that he took the elements from what I consider D's best songs – the ones that are more Asian folk-oriented – and turned that into the style for his full album. On a majority of the album, traditional instruments like the shamisen, the koto and several percussion instruments are enhanced by the distorted guitars rather than the overused other way around, resulting in an album that may be even better than D's already consistently great discography. In addition, it is admirable how Asagi managed to make 'Madara' sound like a uniformous album despite the numerous contributions of high profile guest musicians.
Recommended tracks: 'Hakumenkonmo Kyubi No Kitsune Hidama', 'Komo Sakura', 'Ooyama Inudake ~Tsukuyo Ni Hoeyu~'
8. Aria – Proklyatiye Morey
'Gonka Za Slavoy' is the single greatest song released last year. The rest of 'Proklyatiye Morey' is really good as well. In fact, ever since current (and best) singer Mikhail Zhitnyakov joined the band, Aria has been experiencing a bit of a rebirth. 'Proklyatiye Morey' is the third installment in a series of studio albums that is easily their best since their late eighties and early nineties heyday. In fact, 'Proklyatiye Morey' even finds the band branching out by treading their most progressive waters yet. Unlike some of the recent albums of their prime influence Iron Maiden, Aria manages to sound fresh and energetic throughout the album, however. The short, punchy songs are as good as the longer, proggy ones. If highly melodic old school heavy metal is your thing, 'Proklyatiye Morey' is an album you cannot afford to miss.
Recommended tracks: 'Gonka Za Slavoy', 'Ot Zakata Do Rassveta', 'Zhivoy', 'Era Lucifera'
9. Angra – Ømni
Angra continues to release amazing records. And in true Angra fashion, 'Ømni' is different than anything they have ever done before. It is probably the album with the most pronounced Afro-Brazilian influences since their classic 'Holy Land' album. The best aspect about 'Ømni' is its versatility though. It is a progressive metal album with many different shades and faces. In fact, this is one of the few albums where I think "world metal" is a pretty good genre tag for it. Power metal is slightly less prominent than on 'Secret Garden' (2015), but that is hardly an issue here. Also, it is admirable how little of a difference the loss of long-time guitarist Kiko Loureiro makes. Marcelo Barbosa is an excellent replacement. I am fairly confident about Angra's future at this point.
Recommended tracks: 'Ømni – Silence Inside', 'Bottom Of My Soul', 'War Horns'
10. Alice In Chains – Rainier Fog
'The Devil Put Dinosaurs Here' (2013) made me fear that Alice In Chains had gotten too comfortable with its own sound, but fortunately, 'Rainier Fog' proved me wrong. Sure, the twisted anguish of 'Dirt' (1992) has gone, although traces of it can still be heard occasionally. Naturally, the elements that make Alice In Chains the band people know and love are featured prominently on 'Rainier Fog'. The dual lead vocal harmonies, the crushingly heavy riffs, the haunting minor key melodies and the melancholic ballads are all there. There is just a more spontaneous "let's throw this against the wall and see if it sticks" vibe than before. Ultimately, what makes 'Rainier Fog' an above average Alice In Chains album is that the album contains some of the most memorable songs the Seattleites have written in a long time.
Recommended tracks: 'All I Am', 'Rainier Fog', 'Deaf Ears Blind Eyes', 'Red Giant'
11. Myles Kennedy – Year Of The Tiger
Easily the greatest rock singer of his generation, the sound of Myles Kennedy's solo album was surprising, to say the least. 'Year Of The Tiger' is an album rooted in acoustic guitars, but not in the pretentious singer-songwriter way of most rock singers. Instead, a large portion of the album has been written on resonator guitars, adding a sort of a country blues flavor to many of the songs. Of course, there is still the folky stuff such an acoustic approach tends to result in, but there is even some more powerful stuff here that would have been hardrock if the instrumentation had been different. The interaction between acoustic and electric instruments accounts for an album that is much more dynamic than one would expect. One of the surprise winners of 2018.
Recommended tracks: 'The Great Beyond', 'Nothing But A Name', 'Blind Faith'
12. Amorphis – Queen Of Time
Without wanting to sound too petty in my clean vocal fundamentalism, 'Queen Of Time' may have been higher on my list if it didn't feature so much grunting from Tomi Joutsen. Musically, 'Queen Of Time' is probably the most interesting, layered album Amorphis has released so far. The songs aren't radically different from what they did before, but the songs are significantly enhanced by the use of several traditional instruments, which gives the songs a depth beyond the quality we have come to expect from the Finns. Some of the choruses just beg for Joutsen's excellent clean vocals and get his – admittedly good – grunts instead. If that does not bother you, you could do a lot worse than the equally progressive and melodic as heavy and brutal stuff on 'Queen Of Time'.
Recommended tracks: 'Daughter Of Hate', 'Heart Of The Giant', 'The Golden Elk'
13. Lovebites – Clockwork Immortality
'Awakening From Abyss' was one of the two albums in last year's coin toss. 'Clockwork Immortality' did not impress me quite as much upon first spin. After some time, the album sunk in though. I still think it lacks something the debut did have, but there are too many good songs on the album to dismiss it easily. Overall, 'Clockwork Immortality' is slightly more streamlined than the previous Lovebites releases, but there is still an abundance of excellent guitar work by Midori and Miyako and singer Asami is still one of the best female rock singers in Japan. After some spins, my idea is that better sequencing could have improved 'Clockwork Immortality', but that doesn't take away the fact that there are some excellent power metal and hardrock songs on the record.
Recommended tracks: 'The Final Collision', 'Addicted', 'M.D.O.', 'Pledge Of The Savior'
14. Navarone – Salvo
After the carefully arranged 'Oscillation', 'Salvo' finds Navarone aiming for the live energy that made them so good in the first place again. Stylistically, 'Salvo' combines some of the best rock music from the seventies and nineties, ending up sounding not too dissimilar to what Slash does with Myles Kennedy. Fresh, punchy songs with catchy choruses that don't overstay their respective welcomes are all over 'Salvo'. As always, the album proves that Navarone excels in writing smartly arranged rock songs that don't sound like they have been labored over and the fantastic voice of Merijn van Haren ties it all together. Anyone who has once said that rock music is not what it used to be should certainly give 'Salvo' a spin. Unless you don't like to be proven wrong of course.
Recommended tracks: 'Mind's Eye', 'Søreal', 'The Strong Survive', 'Another Way'
15. White Wizzard – Infernal Overdrive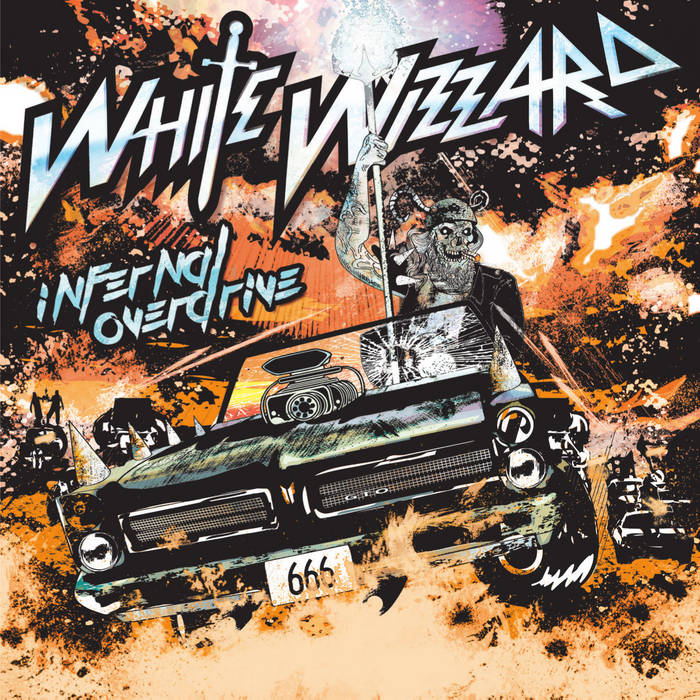 Another one of those albums I was not expecting to like so much. To me, White Wizzard was always one of those retro bands that rightfully had to settle for opening act status. Occasionally fun, but ultimately lacking in the songwriting department. 'Infernal Overdrive' prove me wrong. Gone are the days of blindly aping influences – though closing track 'The Illusion's Tears' has its moments – and in its place, we have a bunch of excellent contemporary heavy metal songs with some delicious guitar work. Even singer Wyatt Anderson has improved significantly. Most of the longer songs feature a ton of engaging stuff as well. I had hoped for this to be the start of a bright future, but unfortunately, White Wizzard called it quits a few months after the album's release.
Recommended tracks: 'Metamorphosis', 'Pretty May', 'Chasing Dragons'