After a number of great releases in January, I thought 2017 was going to be an amazing year for rock and metal. In that respect, the year in music had been a little disappointing. There was no consistent stream of good releases, though there were a few clear peaks in the release schedule. Aside from January, March was a small peak release-wise, September a large one, with the last two months of the year having a handful of interesting albums. My top 10 more or less made itself, but I had even more trouble filling the last couple of positions than last year.
Having said that, I was overwhelmed by the number of quality releases from my own country. Being a Dutchman, I am sometimes overly critical of Dutch bands and sometimes unjustly so. Speaking as a music journalist, I would certainly say that 2017 was the year of pleasant surprises from Dutch guitar bands. There were two clear winners for me this year and neither of them is Dutch, but with four Dutch releases in the top ten and seven in the top twenty, I'd say that last year was surprisingly pleasant for a journalist of a couple of Dutch guitar magazines.
1. Firewind – Immortals
Some of the best power metal I have heard in a long, long time. I have always enjoyed Firewind, but the addition of singer extraordinaire Henning Basse to the line-up and Dennis Ward to the production and songwriting team was just the boost that the (largely) Greek power metal band needed. 'Immortals' is full off exuberant power metal with anthemic, yet not too cliché-ridden choruses and surprisingly aggressive riffing courtesy of Gus G. The epic feel that the concept about the Battle of Thermopylae requires is prominently present, but never at the expense of the songs, which would not lose any of their power when played "out of context". Though the Greeks did not win the battle, Firewind did. 'Immortals' still makes me grin like an idiot when I play it today.
Recommended tracks: 'Ode To Leonidas', 'Hands Of Time', 'Rise From The Ashes'
2. Lovebites – Awakening From Abyss
Lovebites was the only serious competition for Firewind this year. I was ready to dismiss the quintet as another hyped-up girly J-metal band, but both the EP and the album they released this year were jaw-dropping. There's nothing cutesy about Lovebites: their music has balls. 'Awakening From Abyss' is chock-full of high octane riffs, mad lead guitars and excellent heavy metal songwriting. Lovebites combines the best elements of traditional metal and contemporary power metal into a catchy, delicious cocktail with a healthy dash of aggression. Singer Asami, who I had never heard of prior to the EP, is the icing on the cake. Her flexible range and immense power make this an incredible album instead of just a great one.
Recommended tracks: 'The Hammer Of Wrath', 'Shadowmaker', 'Liar'
3. Dool – Here Now, There Then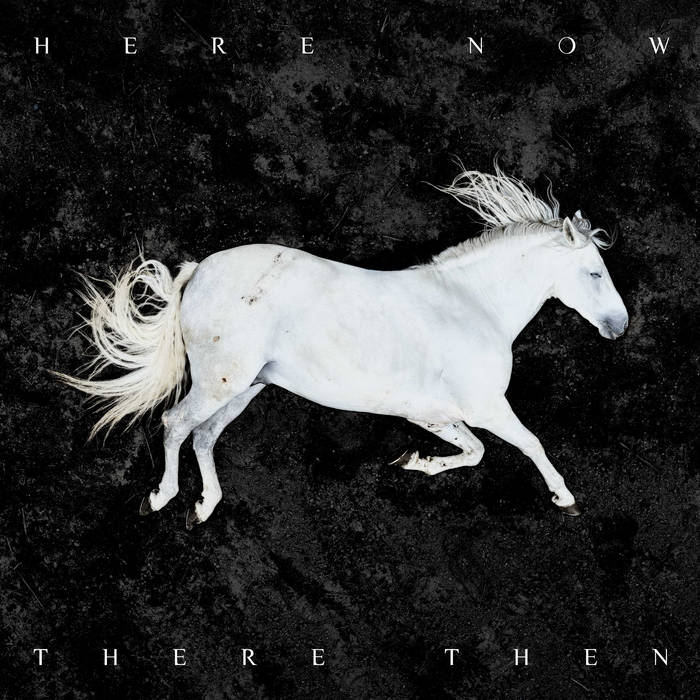 Gloomy, dark, depressive, but always with very distinct melodies. Though 'Here Now, There Then' is only Dool's first album, they already hits all the right buttons. Their immersive sound features equal parts doom metal riffing, psychedelic rock soundscapes and general post-punk nihilism. Listening to Dool is like being surrounded by huge walls of guitars that alternate between weaving intricate patterns and crushing your soul with brutally effective riffs played in unison. Though many bands playing a similar style are marred by subpar vocals, 'Here Now, There Then' features some of the best vocal work I have heard Ryanne van Dorst do thus far. She sounds great on her own, but the harmonies are even better. Not for the faint of heart, but an incredible experience.
Recommended tracks: 'Vantablack', 'Oweynagat', 'The Alpha'
4. Steve Hackett – The Night Siren
In a way, it is ridiculous that an almost supernaturally talented guitarist like Steve Hackett needs to revisit his Genesis legacy to get the attention he deserves, but if it gives him the means to write and perform a record like 'The Night Siren', it has all been worth it. Here, Hackett explores his influences from all over the world and combines them with his own English rock, pop and blues roots. World fusion in the best possible way. The real class of 'The Night Siren', however, lies in the fact that Hackett blends these worldwide influences with his own music in a way that does not sound like he is trying to be clever, it just enhances the mood. Again, the atmosphere is immersive and unsurprisingly, Hackett's playing is nothing short of stellar.
Recommended tracks: 'Behind The Smoke', 'El Niño', 'Fifty Miles From The North Pole'
5. Adagio – Life
This was a grower for me. It took some time to do so, but once it did, it was very difficult to stop playing 'Life'. Adagio really does something new here, which may not be too surprising, since their last album was released more than eight years ago. The tempo is considerably lower and Stéphan Forté's downtuned rhythm guitars are sometimes reminiscent of the djent-sound, but with Kevin Codfert's mind-blowing orchestrations and Kelly Sundown Carpenter's mighty voice, the music has so much more to offer melodically and harmonically. The songwriting is bombastic, complex and melodically strong simultaneously and the record is full of subtleties that reveal themselves over repeated spins. I never was a big Adagio fan, but now I will certainly keep my eye on them.
Recommended tracks: 'Subrahmanya', 'Torn', 'Life'
6. Navarone – Oscillation
On the surface, every element that made Navarone's prior albums so great are in full force on 'Oscillation': the great seventies and nineties rock riffs, Merijn van Haren's massive voice and a rather unpredictable approach to songwriting. Yet, something has changed. The songs are more concise and the band really explores the sonic opportunities of the studio here. And with that comes new possibilities. The surprisingly cinematic ending of 'Snake', the contemporary pop sensibilities of 'Soon I'll Be Home' and the progressive splendor of 'Chrome' are born from this altered approach. As soon as the initial awkwardness wore off, 'Oscillation' turned out to be a very satisfying album by what is arguably Europe's best rock band at the moment.
Recommended tracks: 'Days Of Yore', 'Chrome', 'Soon I'll Be Home'
7. Jeangu Macrooy – High On You
Before I ever even heard a note of his music, Jeangu Macrooy already impressed me with his moving, powerful voice, which has distinct traces of Bill Withers in it. His music is just about as good. 'High And You' is a melting pot of styles which really bring out the best in each other. Large doses of soul, of course, but also pop, jazz, folk and hints of rock and Carribean music. And while many artists who attempt something similar get lost in the maze of their own influences, Macrooy's warm, almost spiritual voice ties the whole thing together convincingly. What truly helps is that Macrooy's basic compositions are essentially all excellent pop songs. The profound, yet uplifting 'Step Into The Water' would be my choice for the single of the year.
Recommended tracks: 'Step Into The Water', 'Fire Raging', 'Head Over Heels'
8. Galneryus – Ultimate Sacrifice
Always highly anticipated: a new Galneryus album. Especially because 'Ultimate Sacrifice' was announced as a sequel to 'Under The Force Of Courage', one of their better records. 'Ultimate Sacrifice' is a bit more consistent and really finds the band firing on all cylinders. The songwriting leans a tad more towards progressive metal than usual, but not without sacrificing – no pun intended – any of their euphroric, strongly European-tinged power metal sound. One of Galneryus' best traits has always been their display of virtuosity: it is always there, but not before the song has been clearly outlined. Sure, it is fast and reasonably complex, but 'Ultimate Sacrifice' is also full of accomplished melodies and it has a remarkable dynamic range for the style.
Recommended tracks: 'Rising Infuriation', 'Heavenly Punishment', 'Brutal Spiral Of Emotions'
9. Merry – M-Ology
For years, I have been wanting Merry to make an album like 'M-Ology'. Not that I did not like their previous albums – 'Nonsense Market' is awesome – but the great thing about this one is the fact that the retro feel that made early albums like 'Modern Garde' and 'Peep Show' so good is finally as prominent as it should be again. Sometimes it feels like a particularly loud jazz band deciding to play a mix of alternative rock, punk, rock 'n' roll and traces of metal and blues. I am aware that such description sounds like a mess, but that is where Merry shines: songwriting. All these songs are based around memorable hooks and rhythms that are as energetic as they are danceable. As a result, I did not play anything else for days after 'M-Ology' came out.
Recommended tracks: 'Inugata Shinsei Masochist', 'Kasa To Ame', 'M-Ology', 'Happy Life'
10. Robin Borneman – Folklore II: The Phantom Wail
Navarone made me aware of this great Dutch singer/songwriter. More than half of that band contributed to 'Folklore II: The Phantom Wail', but it is still very much Borneman's record. One that is kind of hard to define, as it sounds cinematic and rootsy at the same time. This is the kind of stuff that takes you on a journey. Just close your eyes and it will come immediately. Sometimes it's folky blues, but there are also times when it sounds like a spaghetti western contained in a psychedelic rock song, there are hints of country & western… The only true way to describe this is emotional, atmospheric and unpredictable music. No single instrument outshines the bigger picture and the production job is the best I have heard in a long, long time.
Recommended tracks: 'Woebegone Blues', 'O Faithful World', 'The Reckoning / Dawn'
11. Galactic Cowboys – Long Way Back To The Moon
If you like heavy metal riffs and vocal harmonies reminiscent of The Beatles simultaneously, King's X and Galactic Cowboys are basically the only bands you can count on. However, the former's last studio album is almost a decade old and the latter broke up around the turn of the century. Fortunately, they are back and their new album is their best since their incredible debut. On the surface, Galactic Cowboys may be focusing on their heavy side here, but really, every part of their charm can be heard here. The harmonies, of course, but also their cross-genre approach, their loose jam feel and their ability to let the music breathe when it needs to. To show their fans that they are serious about rekindling their fire, the album even starts with Galactic Cowboys' oldest song.
Recommended tracks: 'Amisarewas', 'Drama', 'In The Clouds'
12. Labÿrinth – Architecture Of A God
When 'Architecture Of A God' was just released, I was sure it was going to make my top five. It is, after all, the Italians' best record since career highlight 'Return To Heaven Denied' and almost every song on here is pure gold. Singer Roberto Tiranti is in top shape and as such, he is the perfect fit for the progressive, yet romantic power metal of the sextet. At times, new keyboard player Oleg Smirnoff even pushes the band to different terrain sonically with his unconventional keyboard sounds. And then there are Olaf Thörsen and Andrea Cantarelli, providing all the dreamy melodies and shimmering acoustic guitars you could wish for. It drags a little near the end, but with some of its fat trimmed, 'Architecture Of A God' would have definitely made the top five.
Recommended tracks: 'Still Alive', 'A New Dream', 'Someone Says', 'Diamond'
13. Drive Like Maria – Creator Preserver Destroyer
'Sonny' alone is enough reason to get 'Creator Preserver Destroyer'. Seriously, that little mix of melancholic melodies and poppy rock sensibilities is one of the best songs on an album released this year. The rest of the album is equally strong though. 'Creator Preserver Destroyer' does sound a little different than Drive Like Maria's earlier albums, as the beautifully soulful, but not too loud vocals of Bjorn Awouters suddenly get all the room they need to excel. Underneath them, there is enough variation to make this material, which was originally released as three EP's, interesting for an entire album. Sexy grooves, extended seventies rock jams, monolithic stoner riffs and the occasional ballad… Whatever you need, you will probably find it here.
Recommended tracks: 'Sonny', 'Tiny Terror', 'Keeps Me Going'
14. For All We Know – Take Me Home
Within Temptation guitarist Ruud Jolie released an incredible solo album under the For All We Know moniker in 2011. That album was full of atmospheric, surprisingly emotional progressive rock and I am very glad that he got the whole band that recorded the debut back together. Especially the partnership between Jolie and singer Wudstik is pure magic. Together, they create complex, richly layered songs that are accessible at the same time. This concept is taken to the extreme on 'Take Me Home'; the poppy aspects are catchier, the ballads are softer, the heavy riffs are heavier and the complexity is turned up at strategic moments as well. Listening to For All We Know is truly an immersive experience and though it is a pity we had to wait for it for over six years, it is a great thing that Jolie had the time to write, record and release yet another great record.
Recommended tracks: 'The Big Wheel', 'They'll Win', 'Fade Away'
15. Mastodon – Emperor Of Sand
Mastodon is quite likely the only modern metal band I am consistently interested in. Their sludgy guitar sound is offset by Brann Dailor's busy rhythms and the overall progressive songwriting. Those who thought the band took its melodicism too far on recent albums will be in for a treat. Though 'Emperor Of Sand' still contains its fair share of highly melodic choruses, the riff work and the lead guitar sections are more complex than they have been for a long time. The record is full of triumphant guitar harmonies and the three lead singers (Dailor, guitarist Brent Hinds and bassist Troy Sanders) work together better than ever. On 'Emperor Of Sand', Mastodon proves that there is such a thing as a metal band aging gracefully without becoming a caricature of itself.
Recommended tracks: 'Ancient Kingdom', 'Jaguar God', 'Steambreather'
16. Sven Hammond – Rapture
Notably less polished than their other recent efforts, but no less enjoyable. 'Rapture' finds Sven Hammond returning to the raw, almost garage-y soul sound of their earliest records – if those three instrumentals are no nod to Booker T and the M.G.'s, I don't know what is – but this time, they combine that with their knack for writing accessible songs, as showcased on their previous records. 'Rapture' feels like a groovy late night jam session, during which the presence of Sven Hammond's amazing singer Ivan Peroti requires some sense of structure. The rhythms are driving, Sven Figee's Hammond organ is nice and dirty and Tim Eijmaal's guitar alternates between bouncy riffs and subtle coloring. This sounds way more American than a Dutch band has any right to sound.
Recommended tracks: 'Choosy Lover', 'A Right Pickle', 'Lazarus'
17. The Magpie Salute – The Magpie Salute
Sad as it is that The Black Crowes are no longer around, The Magpie Salute really is the next best thing. Sure, there is only one original song on this album – I've been told an album full of original material is coming in the new year – but what really makes this album is the musical interaction. It is more than obvious that every musician involved has a maximum of respect for the other musicians and the songs they are playing. Jam rock bands have a tendency to stick to the same groove for too long, but every second on The Magpie Salute's self-titled debut album made me hungry for more music. The album is full of exciting musicianship and the lack of a truly charismatic lead singer like Chris Robinson is cleverly compensated for by harmonies.
Recommended tracks: 'War Drums', 'Omission', 'Goin' Down South'
18. Septicflesh – Codex Omega
If there is death metal in my list, it has to be something special. And it is. Septicflesh has always attracted my attention due to their sophisticated orchestrations, but their songs never appealed to me quite as much as on 'Codex Omega'. This time around, the orchestra does not just add power to the songs, the songs themselves are already powerful, allowing the orchestra to take them to their logical extremes. There is also a lot of toying around with rhythms, which can probably be attributed to the arrival of new drummer Kerim 'Krimh' Lechner, whose rhythms try to find their strength in unconventional accents rather than complexity. Jens Bogren's immense production job is incredible. Hell, I don't even mind Seth Siro Anton's grunts. They enhance the atmosphere.
Recommended tracks: '3rd Testament (Codex Omega)', 'Trinity', 'Dante's Inferno'
19. Cloven Hoof – Who Mourns For The Mourning Star?
It would be easy to dismiss Cloven Hoof as a mere shadow of its former self on account of the ridiculous number of lineup changes they have had to endure in recent years. But 'Who Mourns For The Mourning Star?' is such a euphoric, energetic slab of traditional heavy metal that it is easy to forget all of that. A mix between US Power Metal and the NWOBHM scene they are often associated with, the album is treat for old schoolers. And as many credits as bassist Lee Payne deserves for writing these incredible songs, it is really singer George Call – also known as "gruff Bruce Dickinson" in my circles – who pushes these songs beyond how good they would have been otherwise. New material from an old band that does not sound like a weak rehash. Refreshing!
Recommended tracks: 'Star Rider', 'Time To Burn', 'I Talk To The Dead'
20. Black Country Communion – BCC IV
Glenn Hughes, never a poster child for subtlety, was very bitter about Joe Bonamassa walking out of Black Country Communion. So it was all the more surprising that they recorded a comeback album together. And that it was good. Not as memorable as their first two albums, but with a songwriter as strong as Hughes, there are bound to be some winners. Most of it is pure classic rock gold, but there are some folky, bluesy and surprisingly poppy moments as well. Of course, with four musicians this good – and most of them experienced in session work – the interaction is simply excellent. As a result, the longer songs work best. I am not as big a fan of Bonamassa as most people seem to be, but in this context, his playing just works. And Hughes' voice defies physics.
Recommended tracks: 'The Cove', 'Wanderlust', 'Awake'