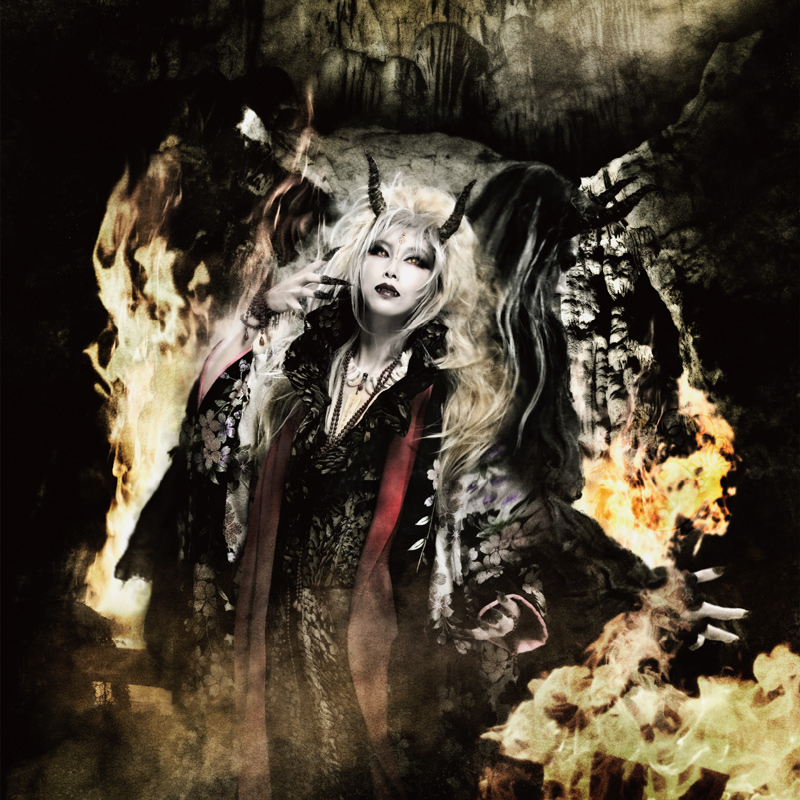 Onmyo-za usually releases a new album every year or so. 'Ryūō Dōji' is their first album in nearly five years, presumably largely due to health issues that affected the hearing and vocal cords of singer Kuroneko. Fortunately, she sounds incredible here, though that could also be the restult of 'Ryūō Dōji' not being anwhere near as heavy as its direct predecessor 'Hadō Myōō'. This is definitely the most traditional-sounding Onmyo-za album released in quite a while. But at the same time, it does not really sound like anything the band has released so far. It does, however, sound really good.
While all the melodies are instantly recognizable as ones that singer, bassist and band leader Matatabi would write for Onmyo-za, the experimentation on 'Ryūō Dōji' is in the song structures and the way the melodies are constructed. Melodies tend to stop earlier than one would expect based on the band's output and not every part of the songs is in the place similar parts usually are. For instance, Matatabi has a tendency to open the first proper song with a catchy uptempo hardrock riff, but 'Ryuso' kicks off with Kuroneko singing a melancholic melody with minimal accompaniment. The expected riff does follow later, but these slight changes keep things fresh without alienating listeners.
'Ibaragi Dōji' was released as a single last month and in a way, the song is a tad misleading. It suggests a similarly heavy approach as the previous album, but despite a fair share of crushing riffs, 'Ryūō Dōji' is far more dynamic. The album focuses on Onmyo-za's trademark approach of fairly traditional hardrock and heavy metal riffs with melancholic, yet strangely uplifting melodies carried beautifully by Kuroneko and Matatabi. The latter seems to take a backseat to his wife's incredible performance a bit more than on 'Hadō Myōō' this time around, but the vocal interaction that makes Onmyo-za such a special band in the first place is still there.
My favorite moment on 'Ryūō Dōji' is when Makoto Dobashi's drums underneath the fantastic main riff of 'Gekka Ninpōchō' speed up their time feel to create a new climax with the same melodic information. But there is much more to enjoy on 'Ryūō Dōji' or even that song alone. Time will have to tell whether or not the 11-plus minute 'Shiramine' will pass 'Dōjōji Kuchinawa no Goku' as my favorite long Onmyo-za song, but it is a song in which a lot happens and the ballad section of the song is hauntingly beautiful. 'Ryōmen-Sukuna' is another highly dynamic mini-epic, while 'Karura' brings back the lighter, airy rock sound as heard on the heavily underrated 'Fūjin Kaikō' album.
When the songs stick closer to the tried and true Onmyo-za formula, the results are just as impressive though. 'Hōō no Hitsugi' is an excellent Iron Maiden-inspired hardrocker with a great chorus which, alongside the relatively upbeat 'Ōinaru Kappo', just as easily could have fit on the likes of 'Raijin Sōsei' or 'Karyō-Binga'. 'Shizukokoronaku Hana no Chiruran' takes the Onmyo-za style in a slightly more dramatic direction than usual, while the relatively dark and heavy 'Nurarihyon' is one of my personal highlights of the album. Especially the blink and you miss it chorus with its stinging, yet surprisingly haunting vocal harmony is pure art.
A minor issue on 'Ryūō Dōji' is its length. At 71 and a half minutes, it is an extremely long album. On the other hand, there is not a single song that I think deserves to be left off the album. During its first minute or so, I thought 'Kakugo' might be the filler track due to how long it builds on its beefy mid-tempo hardrock groove, but the excellent vocal interplay in the chorus and the fantastic call and response guitar outro definitely make it transcend the filler status I initially thought it would have. Even 'Shinki', the more lightweight, upbeat rocker that traditionally closes an Onmyo-za album, is actually quite strong.
Not unlike 'Chimimōryō' about fifteen years ago, 'Ryūō Dōji' is an album with a broad appeal. Multiple sides of the band have been highlighted, which means there is a little something for everyone. For many bands, that would mean their album is at risk of being too little of what fans want to hear to please anyone, but Onmyo-za's trademark sound is so specific that 'Ryūō Dōji' is unlikely to disappoint anyone already into their music. Since I am a massive fan of what Onmyo-za does and nobody quite does anything similar, the sheer idea of a new album for the first time in nearly five years is already reason enough to be excited. But the fact that it is one of the better latter-day Onmyo-za albums is a fantastic bonus.
Recommended tracks: 'Nurarihyon', 'Gekka Ninpōchō', 'Shiramine', 'Karura'